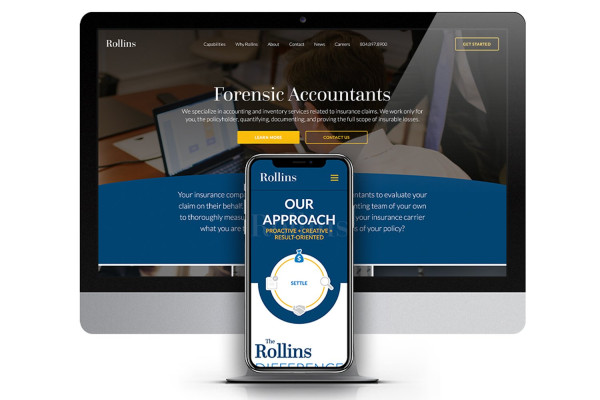 After many months of hard work by the forensic accounting professionals at Rollins in tandem with the profoundly talented design team at TRAINOR, we are thrilled to announce the launch of our new and [much] improved website!
Our goal for the website design was to reflect the unparalleled quality and professionalism that distinguishes Rollins Accounting & Inventory Services as the premier forensic accounting firm that we are.
We also wanted to give our clients the opportunity to know us better. When you click on Meet Our Team, you'll see why one of Rollins' greatest attributes is our people. Our leadership team, forensic accountants, and related staff of professionals possess an extensive array of experience working exclusively for the policyholder in quantifying their insurance claims, while relieving the burden from our clients in accurately measuring and presenting their losses.
Our site was built with you in mind. You will find it is much more user-friendly; we wanted to shift to a more client-centric layout so our clients can easily locate the information they need. In the Capabilities section, you'll find an overview of our services and the 7 categories for which we most often are retained to assist our clients: Business Interruption & Extra Expense, Builder's Risk, Litigation Support, Business Personal Property, Cyber, Fidelity/Employee Dishonesty, and Product Recall.
When you navigate to Why Rollins?, you'll see why so many of our clients are repeat clients. Our References speak for themselves and our Case Studies are particularly compelling.
Additionally, be sure to check the News section of our website for updates, case studies, blog posts, and company announcements featuring stories of client successes.
We invite you to view the new website and let us know your thoughts. Thank you for being a part of this exciting new chapter in Rollins' history!